GOLD AWARD 2022 HARVEST EVOO
DOP MODENA TRADITIONAL BALSAMIC VINEGAR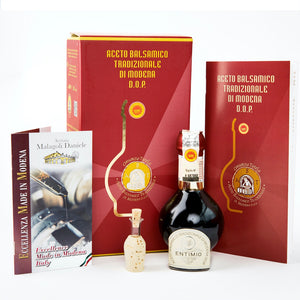 A F F I N A T O | 3.4 fl oz
SHOP: $78.47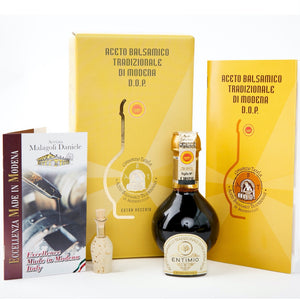 E X T R A - V E C C H I O | 3.4 fl oz
SHOP: $129.87
Discover the World of ENTIMIO
Sign-up to Receive Product News, Exclusive Deals, and Blog Updates
Contact Us
Write Us an E-Mail or Call Us
We love to hear from you, we value your opinion, and we strive for 100% satisfaction and welcome any constructive feedback or suggestion.
Please write us at info@entimio.com or call us at +1 832 308 3407 with ideas, questions or feedback.
We care deeply about any issue or concerns you might have with any of our products, and we will make every effort to get back to you as soon as possible, to hear you out and make it right for you.
100% Satisfaction Guarantee
Where We Ship
We ship throughout the 48 United States (excluding Alaska & Hawaii) and the District of Columbia, but we do not ship internationally. PO boxes addresses are only eligible for standard shipping via USPS.
How We Ship
First, we have developed a safe e-commerce packaging that is 100% recyclable, easy to open/dispose of, and stylish. Second, to ensure all Entimio olive oil gets to you in perfect conditions, we safely package all olive oil bottles ourselves with lots of love and care. Third, we partner with established logistics providers to get your Entimio olive oil to your door. And in the rare case something goes wrong, we remain 100% responsible for your complete satisfaction!
Orders typically get processed the same business day if placed before 1:00 pm ET.
Shipping Options – Timing and Costs
| Type | Cost | Service | Est. Transit Time |
| --- | --- | --- | --- |
| Standard Shipping* | Not Available | Suspended during holiday period. To resume after 15 January 2024. | Not Available |
| 3-Day Shipping* | $11.00 Flat Fee. Free on Orders $100+. Available throughout the 48 United States. | Fedex, UPS, or Major Regional Couriers | 3 Business Days |
* All Major Couriers Have Suspended the Service Guarantee
We will do our best to fulfill all orders on the same day or the following morning as promised. While we believe our fulfillment partners are extremely reliable, please do not hold us responsible for potential delays due to late delivery by couriers. We will take responsibility for our mistakes, and we will help you resolve any issue as best as we can.
Returns and Refunds – 100% Satisfaction Policy
Customer satisfaction is our top priority. For this reason, if you are not 100% satisfied with any aspect of your order, please let us know by writing us at info@entimio.com, and we will do our best to make it right for you. Even if that means sending you another bottle or giving you a full refund, we want you to be happy!