Four Additional Gold Awards for Entimio at 2021 NYIOOC
Posted on May 25, 2021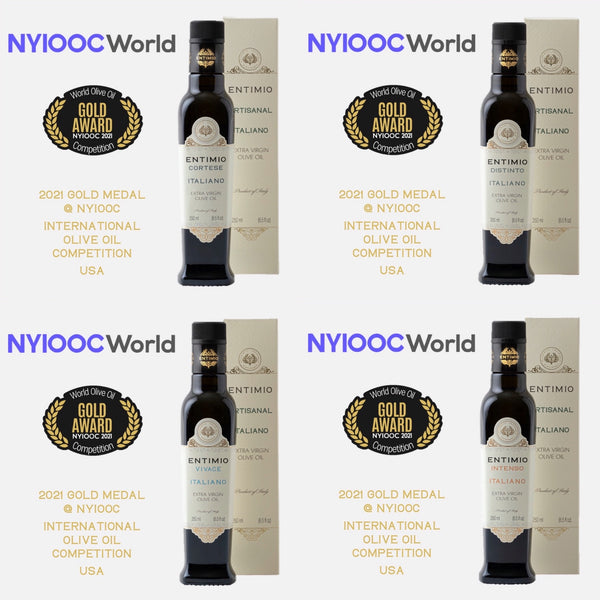 These additional four gold awards at the 2011 NYIOOC hosted in NY, USA, close Entimio's 2021 international competition season with a bang! We know we have a great set of EVOOs in our hands, but we are still excited that all our entries won a gold award. Impressive! Entimio has now won 4x gold awards at the 2021 EVO-IOOC in Italy and 4x awards at the 2021 NYIOOC in USA.
With these 4x Gold Awards, we celebrate three classics and one new addition:
1) Entimio Cortese - one of the pillars of our collection, a medium organic extra virgin olive oil, ideal for delicate fish and vegetables;
2) Entimio Distinto - another pillar of the Entimio family, a medium-robust extra virgin olive oil (lab tested free from pesticides and chemicals) perfect for traditional Tuscan dishes such as tomato bread soup and vegetable soup
3) Entimio Vivace - 2020/21 addition, a medium-robust organic EVOO, for those grilled fish and vegetables lovers who like a nice peppery kick combined with a wonderful bouquet of aromas, a great expression of early-harvest Leccino
4) Entimio Intenso - after a pause in 2019/20 this beautiful expression of Correggiolo is back by winning its third gold award at the NYIOOC, a green robust olive oil ideal for beans soups, aged cheese, and red meats, with our  highest polyphenol count, well above the indicated 600mg/kg threshold
Once again, a huge "Thank you!" goes to all our producers, which helped us break the gold award record and give us access to their best olive oil year after year, even though that means more effort for less quantity.

We strive for the best quality because that is what makes us tick and because you deserve the best!

Enjoy great EVOOs with Entimio!