Asparagus with Lemon and Olive Oil (all'Agro)
Posted on September 26, 2021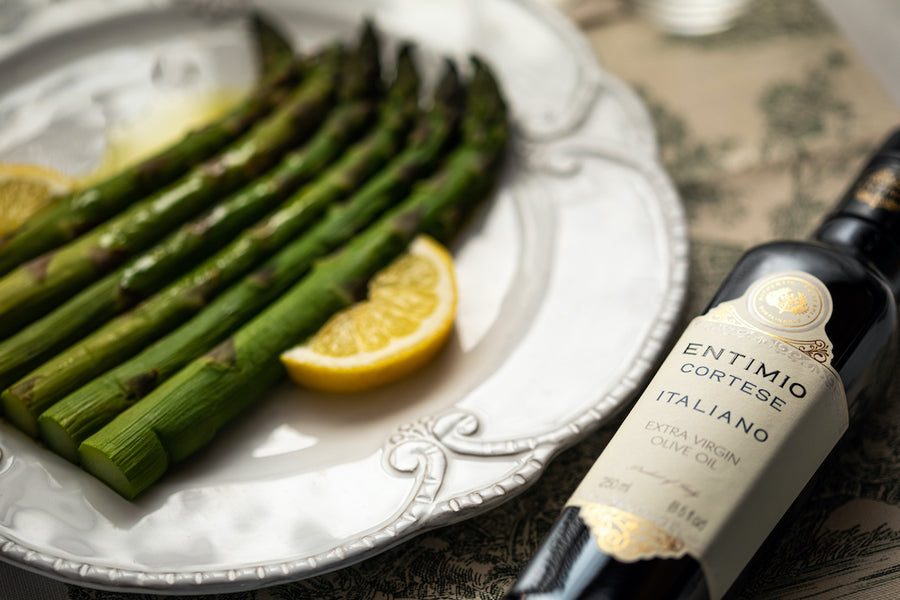 Asparagus with Lemon and Olive Oil (all'Agro)
Makes 4 servings | 20 minutes
Such a quick and straightforward dish you might wonder if it needs a recipe at all!? The "all'Agro" technique is simple and elegant.
We prefer the asparagus "crisp-tender," or you can cook the asparagus for a tender feel. The lemon juice and olive oil emulsion, seasoned with salt and pepper, seals the deal! And simple preparations demand the best quality ingredients, as there is no complexity to hide mediocrity.
Ingredients
- 3 lb of asparagus
- Freshly squeezed juice of one medium lemon
- 80ml of Entimio Cortese organic extra virgin olive oil
- Salt and pepper, to taste
- 4 Lemon wedges or slices
Instructions
Step 1 - Trim off the whiter ends of the asparagus. For thicker asparagus, peel them starting two inches below the tips down.
Step 2 - Get a large pot of water (enough to cover the asparagus) to boil and add a generous pinch of salt to taste. When boiling, add the asparagus with the tips upward if they can't lay flat.
Step 3 - Boil the asparagus for about 5 minutes or until crisp-tender, remove and drain them very well, and let them cool for a few minutes.
Step 4 - In a bowl, mix your Entimio Cortese organic extra virgin olive oil with the lemon juice to create an emulsion, and add salt and pepper to taste.
Step 5 - Arrange the asparagus on a serving plate, spooning the emulsion on each asparagus, all up and down the spears. Serve with additional lemon wedges for those lemon lovers!
Shop Entimio Cortese 250ml (8.5 fl oz) and 500ml (16.9 fl oz) formats.