Baked Cod with Chickpeas
Posted on December 30, 2021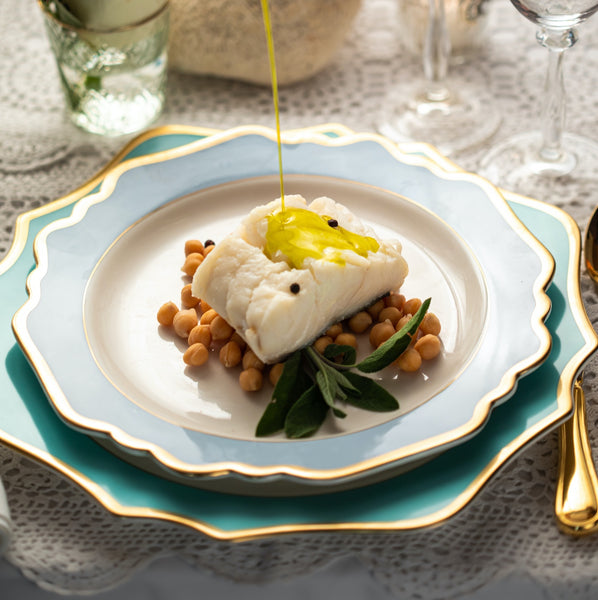 Baked Cod with Chickpeas
Makes 4 servings | 40 minutes
Baked Cod with Chickpeas is a nutritious dish with plenty of proteins and omega 3 for our body and a tasteful and healthy energy source.
Ingredients
- 2 lb portion of cod per person
- 1 lb of washed chickpeas
- 3 fl oz white wine
- 1/2 lb finely minced parsley
- Salt and pepper, to taste
- Entimio extra virgin olive oil
- Lemon cut in 8 wedges
Instructions
Step 1 - Heat two tablespoons of Entimio Italiano extra virgin olive oil in a frying pan large enough for the cod. Season the cod with salt and pepper to taste and pan fry the cod skin-side down until it cooks through the skin and starts to cook the flesh.
Step 2 - Remove the pan from the heat. Drizzle a tablespoon of Entimio Italiano Extra Virgin Olive Oil on the cod and use a brush to spread it across the top and the sides. Add the white wine, if you like (note: most of the wine, especially the alcoholic content, will evaporate while the cod is cooking). Then gently turn over, so the skin is on top. Place the pan in a medium oven or the bottom shelf of a medium grill for 10 mins.
Step 3 - While the fish is cooking, it is time for the chickpeas. Heat a couple of tablespoons of Entimio Italiano extra virgin olive oil over a medium flame. Add the chickpeas and fry them a little. They will absorb some of the oil and pick up a lot of flavors.
Step 4 - Place the chickpea in a shallow bowl and place the fish on top. Lightly fry the lemon wedges and put them on top or the side of each portion.
Step 5 - Finish the dish with chopped parsley and Entimio Cortese extra virgin olive oil to taste.
Variations: A) use halibut instead of cod; B) replace parsley with sage or a mix of the two; C) add chorizo slices to the frying pan before adding the chickpeas and fry it until the pieces are starting to turn brown and the oil is slightly orange, and also swap the white wine with red wine
Shop Entimio Cortese 250ml (8.5 fl oz) and 500ml (16.9 fl oz) formats.