Tomato and Sautee Spinach Bruschetta
Posted on September 10, 2021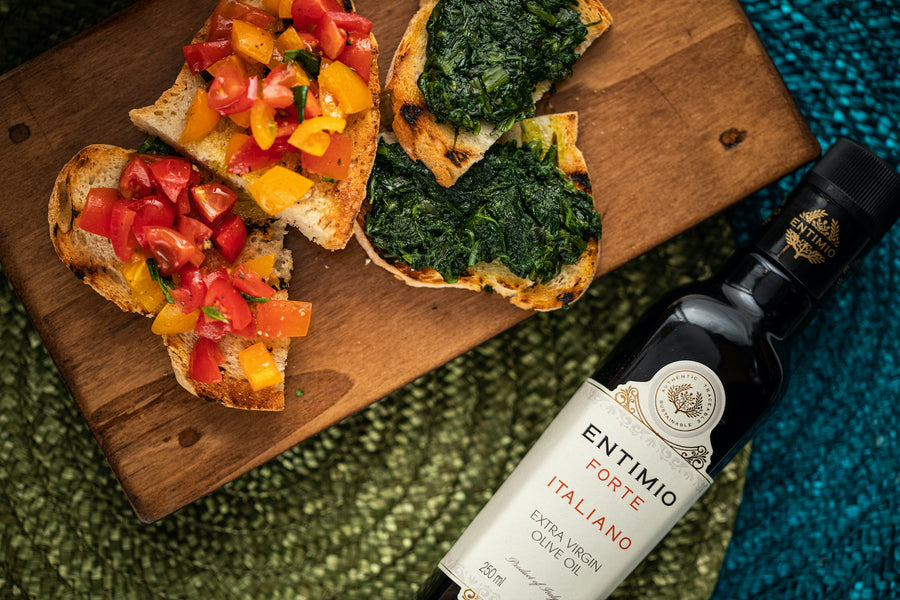 Tomato and Sautée Spinach Bruschetta
Makes 4 servings | 30 minutes
A tasteful and healthy Italian starter or side, revisiting the classic bruschetta to add a spinach kicker! Ideal for gatherings with friends, easy to prepare and to share, colorful and tasty. The simplicity of this recipe makes the flavor of the tomato and spinach the stars of this dish.
Ingredients
- 1 heirloom tomato, finely diced
- 4 leaves fresh basil, chopped

- 1/2 pound spinach
- 2 garlic clove, cut into four pieces

- 4 slices of French or Italian-style bread, cut into two halves
- 4 tablespoons Entimio Forte Organic extra virgin olive oil + more to drizzle
- Salt and pepper to taste
Instructions
Step 1 - Heirloom Tomato Mix
Combine the diced tomato, chopped basil, salt, pepper, and olive oil in a mixing bowl. Use more olive oil, if necessary, to coat the entire mixture and put it aside to allow the flavors to soak and blend.

Step 2 - Sautéed Spinach
Wash spinach thoroughly and drain. Saute garlic olive oil in a medium-size saute pan until garlic is light brown on all sides. Remove the garlic and add the spinach, cover and cook over low heat for 5 minutes, stirring a few times. Add salt and pepper to taste. Cook, uncovered, 5 minutes longer, stirring occasionally. Put aside to cool.

Step 3 - Bread Toasting
Preheat the oven or grill to 425F. Toast bread in preheated oven on a baking sheet or directly on your grill until lightly browned, about 1 minute on each side.

Step 4 - Putting it All Together
Rub bread pieces on one side with the garlic, using each of the four garlic pieces on two bread pieces. Top four bread halves with tomato mixture using a slotted spoon, allowing excess liquid to drain. Top the other four bread halves with the sauteed spinach. Add an extra drizzle of olive oil for an antioxidative health boost.
Shop Entimio Forte 250ml (8.5 fl oz) and 500ml (16.9 fl oz) formats.