Gazpacho
Posted on August 27, 2021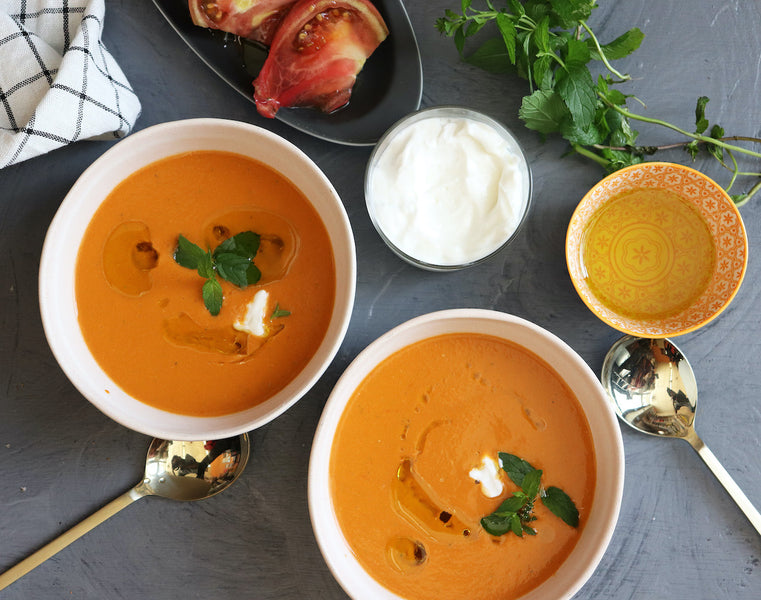 Gazpacho
Makes 4 servings | 30 minutes
A not-so-traditional gazpacho with the freshness of mint and a hint of sweet courtesy of the orange. The roasted pepper removes the bite of fresh pepper and adds a depth of flavor. The yogurt can be whisked in at the end for a creamier finish. It can be served warm or cold or as a sauce roasted chicken or fish.
Ingredients
- 2 large heirloom tomatoes, roughly chopped
- 1 large red bell pepper
- 1 serrano pepper
- 1/2 cup loose mint leaves plus more for garnish
- 2 small Persian cucumbers, cut into large chunks
- 6 to 7 cloves of garlic
- 1 orange for both zest and juice
- 1 1/2 teaspoons sea salt
- 2 limes for their juice
- 1/3 cup Entimio Distinto extra virgin olive oil plus more for finish
- 1/4 cup plain whole-milk yogurt
Instructions
Over a hot flame, roast the red pepper until it is black and crackly on the outside. Under a faucet with running water, remove and discard the burnt exterior. Cut the tip off the pepper but leave the seeds and ribs in.

In a large blender, combine the heirloom tomatoes, roasted red pepper, serrano pepper, mint leaves, cucumber, garlic, orange zest and juice, lime juice, and sea salt. Puree until completely smooth, then add the Entimio Distinto extra virgin olive oil and puree again until the oil is incorporated. Strain this entire mixture and chill until ready to serve.

Distribute the gazpacho into 4 bowls, add a dollop of yogurt, a few springs of mint, and a generous drizzle of Entimio Distinto extra virgin olive oil.
Shop Entimio Distinto 250ml (8.5 fl oz) and 500ml (16.9 fl oz) formats.