Lamb Kebab
Posted on September 03, 2021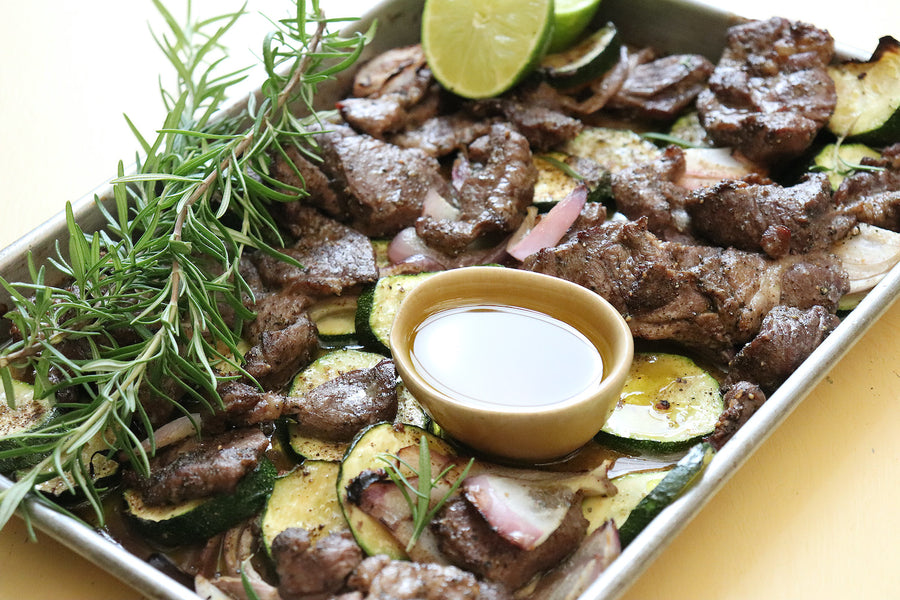 Lamb Kebab
Makes 4 servings | 40 minutes + Rest time
The delicious spice of olive oil enhances the flavor of lamb beautifully – you can make these kebabs on an outdoor grill or in the oven. The black pepper and cardamom sweetness complement the fragrant bitterness of Entimio Intenso extra virgin olive oil. The juices of the lamb flavor the vegetables, and the olive oil becomes the crowning glory of flavor.
Ingredients
- 1 pound lamb leg, preferably slightly frozen
- 1 large zucchini cut into 1/2-inch-thick wheels
- 1 large red onion, sliced in half wheels
- 1 tablespoon freshly ground black pepper
- 1 teaspoon ground green cardamom seeds
- 1 tablespoon finely chopped fresh rosemary
- 1 teaspoon sea salt
- 2 to 3 tablespoons Entimio Intenso olive oil, plus more for drizzling
- 1 lemon, cut in half
Instructions
Slice the lamb into 2-to-3-inch chunks and then as thinly as possible (easier to slice when slightly frozen).  Let the lamb thaw completely before marinating.

Preheat the oven to 450F. Combine the drained lamb with zucchini, onions, black pepper, cardamom, rosemary, salt, and olive oil. Spread evenly on a greased small baking pan. Bake in the oven for 10 minutes, reduce the temperature to 350F, and cook for 10 minutes. Remove the pan from the oven and let the lamb rest for a few minutes before serving. 

Drizzle a little more olive oil over the lamb kebabs, squeeze a little bit of lemon juice and serve. 

Shop Entimio Intenso 250ml (8.5 fl oz) and 500ml (16.9 fl oz) formats.