MAPLE SAUTEED EGGPLANT
Posted on July 23, 2021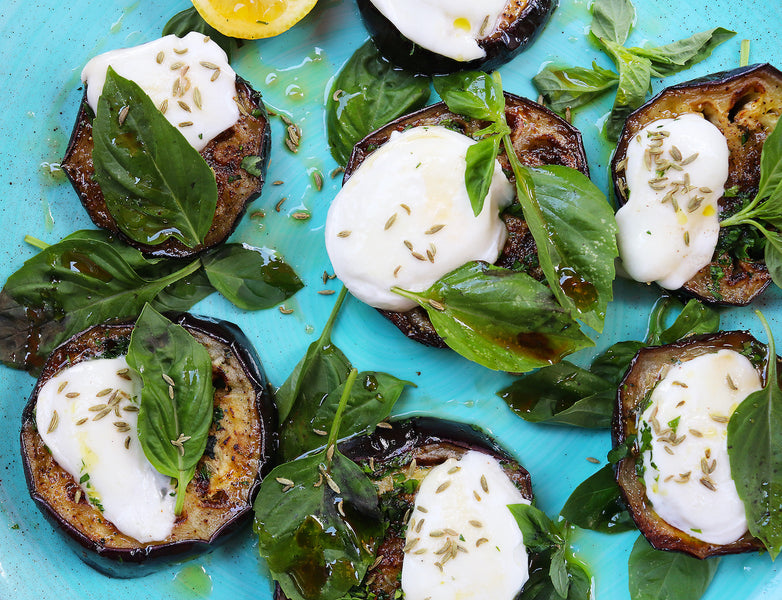 Maple Sautéed Eggplant Recipe
Makes 4 servings | 20 minutes + marinate time 
Your vegetables deserve the best. Try this Maple Sautéed Eggplant recipe to discover aromas and flavors unlike you've had before. Use Entimio Cortese EVOO to craft the perfect texture and taste! You'll find it easy to get the golden finish, including rich flavors from fresh and fruity olive oil. It makes the ideal pairing with superfood benefits, which you'll find beneficial during and after enjoying a meal. 

Ingredients
- 1 large eggplant, cut into 3/4-inch-thick wheels
- 1 teaspoon salt
- 1/4 cup Entimio Cortese olive oil
- 2 teaspoons black pepper
- 2 tablespoons maple syrup
- 6 ounces fresh buffalo mozzarella or burrata cheese
- 1 cup fresh basil leaves
- Fennel seeds
Instructions
Salt the eggplant slices and set aside for 20 to 30 minutes. Pat dry with a paper towel. The salt will pull the moisture out of the eggplant and make it easier to cook.
Heat a frying pan with olive oil. Sauté the eggplant slices on both sides until golden brown and cooked through. It will take about 3 to 4 minutes on each side, depending on the heat source.
Transfer to a baking sheet and sprinkle with black pepper, and drizzle with maple syrup. At this point, the eggplant can be refrigerated or set aside for a few hours.
Preheat the oven to 350F. Place a slice of mozzarella cheese on each eggplant and roast in the oven for 5 to 6 minutes, or until the cheese is melted. Serve immediately.
Shop Entimio Cortese EVOO in 250ml (8.5 fl oz) and 500ml (16.9 fl oz) formats.