Masala Avocado Toast
Posted on August 19, 2021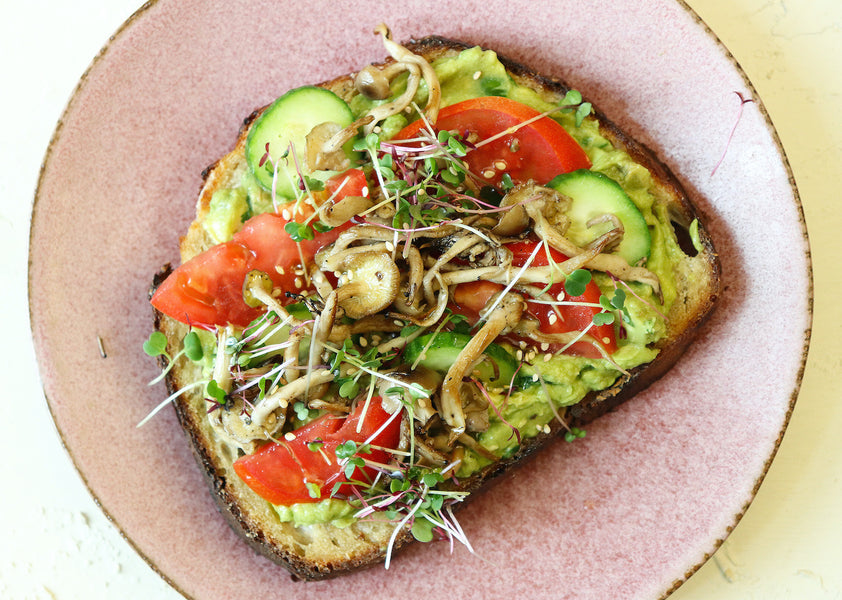 Masala Avocado Toast
Make 2 to 4 servings | 30 minutes
Avocado toast, known as the flavorful vehicle to getting more nutrients into your body!

Treat yourself by indulging in enriching and satiating meals. Not your average avocado toast! Instead, the masala spice and oyster mushrooms work to capture an array of flavors. Add Entimio Italiano Organic EVOO to perfect your toast.
Ingredients
Avocado Masala
- 1 large avocado or 2 small
- 2 tbsp chopped cilantro
- 1/2 small Serrano (minced)
- 1 tsp coriander seeds
- 1/2 lemon juice
- 2 tsp sesame seeds
- Pinch of salt

Mushrooms
- 1 to 2 large-lobed oyster mushrooms
- 1/2 tsp salt
- 1 tsp black pepper
- 1 tsp ground cardamom
- 2 to 3 tbsp Entimio Italiano Organic EVOO
Bread and Salad
- 2 to 4 sourdough slices
- 2 to 3 heirloom tomatoes
- 2 medium cucumber
- Entimio Italiano Organic EVOO to drizzle
Instructions
Preheat the oven to 375 degrees. Cut the mushrooms into 3-4 large segments, leaving the overall shape intact. Place them on a greased baking sheet and sprinkle with salt, black pepper, and cardamom.

Drizzle Entimio Italiano Organic EVOO over the spices and place the pan in the oven for 5-7 minutes. Oversee it, or the mushrooms may overcook or burn. Remove the tray from the oven and let the mushrooms rest for 2-3 minutes before serving.
Mash the avocado and add cilantro, minced Serrano, coriander seeds, lemon, and salt. Whip the mixture together until desired texture.
Toast the sourdough slices and begin assembling with an avocado masala base. Top it with tomato, cucumber, sprouts, and mushrooms. Finish with a drizzle of Entimio Italiano Organic EVOO.
Shop Entimio Italiano 500ml (16.9 fl oz).