Morning Eggs
Posted on November 06, 2021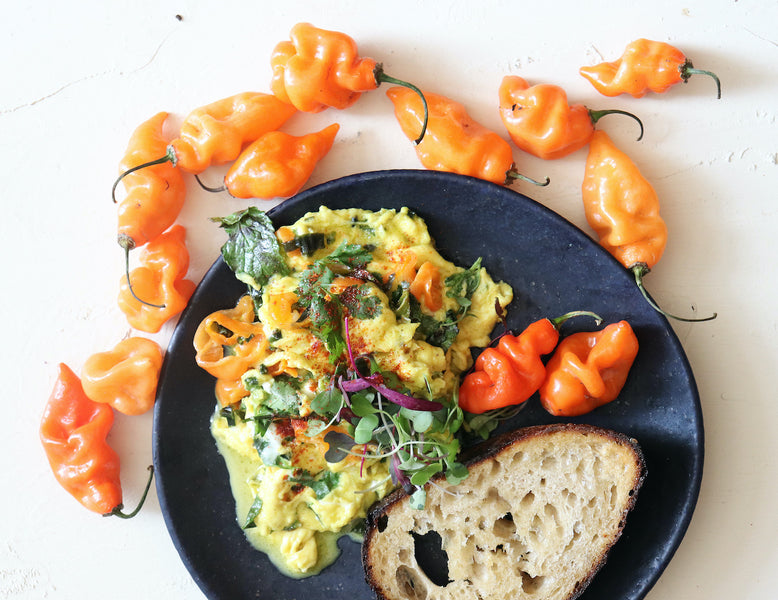 Morning Eggs
Makes 2 servings | 15 minutes
A drizzle of olive oil before and after a quick scramble of eggs can elevate a simple breakfast for two. The key to getting the eggs creamy and fluffy is not to overcook them.
Ingredients
- 3 large eggs
- 1/2 tsp sea salt
- 1 tsp black pepper
- 1/4 tsp dried ground turmeric
- 1 tsp heavy cream (or milk)
- 3 scallions, minced white and green parts
- 1 small red bell pepper, minced
- 4 tbsp Entimio Cortese organic extra virgin olive oil
- Few herb springs like cilantro or basil to garnish
Instructions
Step 1 - Whisk the eggs with salt, pepper, heavy cream, and turmeric. Set aside.
Step 2 - In a small frying pan, warm up two tablespoons of olive oil over high heat and add the scallions and red bell peppers. Sauté for 2 to 3 minutes, stirring frequently.
Step 3 - Pour the whisked eggs into the pan, stir slightly, reduce the heat to low, and cover the pan. The eggs should cook for a minute or two.
Step 4 - Drizzle the remaining olive oil over the eggs along with herbs. Stir gently and immediately serve over warm toast.
Shop Entimio Cortese 250ml (8.5 fl oz) and 500ml (16.9 fl oz) formats.