Olive Oil Roasted Cauliflower with Tahini & Mint
Posted on October 02, 2021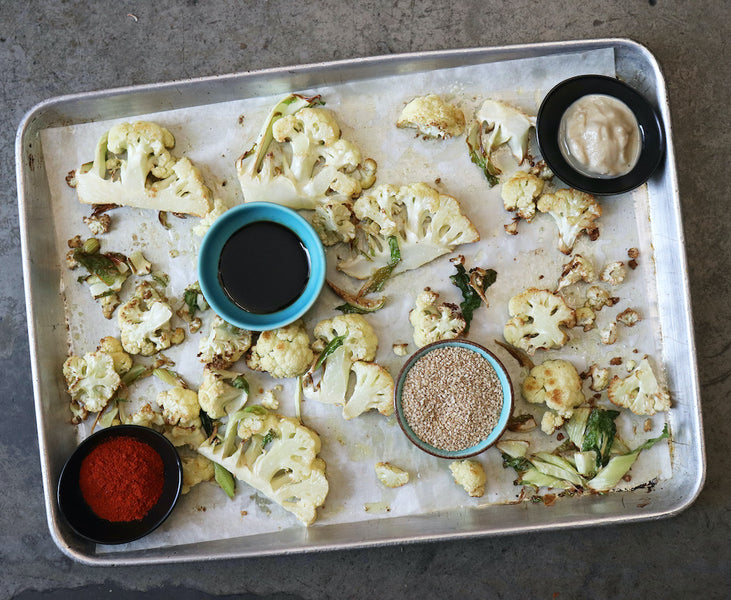 Olive Oil Roasted Cauliflower with Tahini & Mint
Makes 4 servings | 25 minutes
The options are endless when you have a variety of award winning Entimio extra virgin olive oils to choose from. Our Entimio Forte organic extra virgin olive oil is the star of this dish and elevate it did! For a light and savory appetizer, try this roasted cauliflower with tahini and mint.
Ingredients
- 1 Cauliflower head
- 4 Tablespoons Entimio Forte organic extra virgin olive oil plus more for drizzling
- 1 Teaspoon sea salt
- 1 Teaspoon black pepper
- 2-3 Tablespoons tahini
- 1 Pinch chili powder
- 1 Tablespoon sesame seeds
- 1/2 Cup chopped herbs
- 2 Tablespoons balsamic vinaigrette (optional)
Instructions
Step 1 - Preheat the oven to 350F. Slice the cauliflower head into 2 to 3-inch pieces. Spread on a 1/2 sheet pan and drizzle with olive oil. Sprinkle over the salt & pepper, then add to the oven for 15-20 min.
Step 2 - Remove from oven once the cauliflower is soft with a golden finish.
Step 3 - Drizzle tahini, chili powder, sesame seeds & balsamic. Top with chopped herbs and another drizzle of Entimio Forte organic extra virgin olive oil.
Shop Entimio Forte 250ml (8.5 fl oz) and 500ml (16.9 fl oz) formats.