Pan-Braised Endive Salad
Posted on October 09, 2021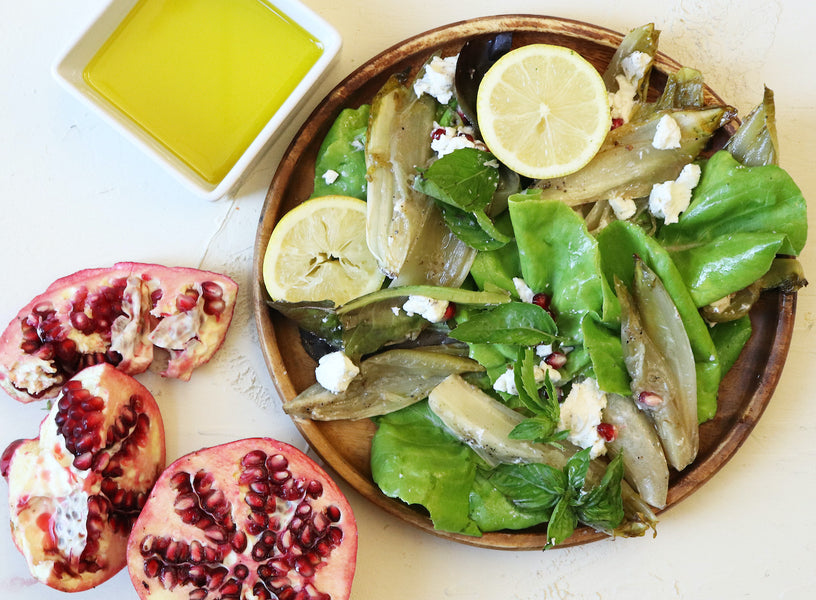 Pan-Braised Endive Salad
Makes 4 servings | 30 minutes
Belgian endive, a small cylindrical head of tightly packed pale-yellow elegant lettuce, packs a crispy, bitter flavor and versatility. Eat it raw, marinated, braised, or roasted. However, pan braised in olive oil mellows the flavor and makes a deliciously warm and cold salad. Add a salty kick from the chèvre, olive oil + lemon juice dressing, and a crown of pomegranate seeds to finish the dish. 
Ingredients
 - 4 to 5 head of Belgian endive
- 5 tablespoons Entimio Distinto extra virgin olive oil
- 5 to 6 large leaves of butter lettuce
- 2 tablespoons goat cheese
- 1 teaspoon black pepper
- 1/2 teaspoon sea salt
- 1/4 cup fresh pomegranate seeds
- Juice from one lemon
Instructions
Step 1 - In a medium frying pan over high heat, warm two tablespoons of Entimio Distinto extra virgin olive oil and place the endive heads cut side down. Cook on high to medium heat for 4 to 5 minutes until brown, then flip them over. Cover the pan, lower the heat, and let them cook for another 3 to 4 minutes until cooked but not too soft – they should hold their shape. Finally, let the endive rest for 5 to 7 minutes.
Step 2 - Arrange the butter lettuce in a large platter or a shallow bowl.
Step 3 - Cut the endive into thick strips and place them around and on the lettuce. Crumble goat cheese on top and sprinkle pomegranate seeds. Drizzle rest of Entimio Distinto extra virgin olive oil and squeeze lemon juice over it.
Shop Entimio Distinto 250ml (8.5 fl oz) and 500ml (16.9 fl oz) formats.