Panzanella Salad
Posted on June 09, 2023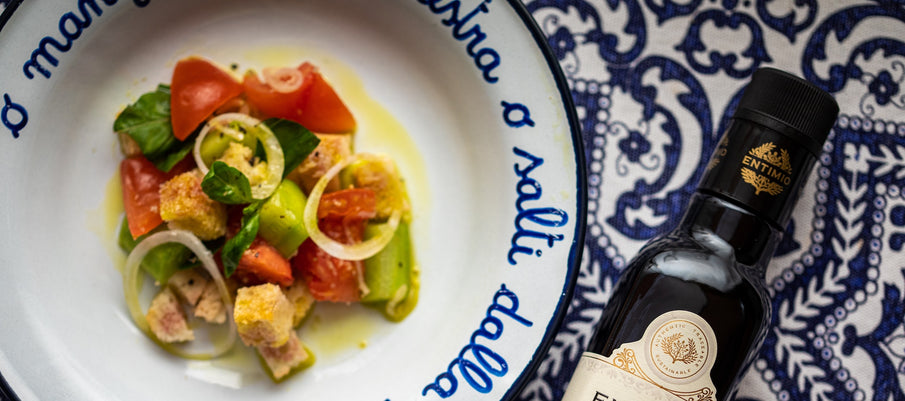 Panzanella Salad
Makes 4 servings | 30 minutes
Fresh flavors and vibrant colors come together in this delightful Panzanella salad. A perfect blend of crunchy bread, juicy tomatoes, crisp cucumbers, and aromatic herbs. Summer on a plate! 

This recipe pairs perfectly with a fruity olive oil like Entimio Ardente or Entimio Intenso and our Entimio Affinato balsamic vinegar. Enjoy the balance of the tomato notes and pungency of Ardente or the refined contrast of the artichoke notes and bitterness of Intenso.
Ingredients 
- 4 cups fresh Italian bread, cut into 1-inch cubes
- 4 large ripe tomatoes, cut into bite-sized pieces
- 1 cucumber, seeded and diced
- 1 small red onion, thinly sliced
- 1/2 cup pitted black olives, halved
- 1/4 cup fresh basil leaves, torn into small pieces
- 1/4 cup fresh parsley leaves, chopped
- 3 tablespoons Entimio Ardente or Intenso organic extra virgin olive oil
- 1/2 teaspoon of Modena DOP Balsamic Vinegar Aged 12+ Years
- 1 clove garlic, minced
- Salt and black pepper, to taste
Instructions
Step 1: Preheat the oven to 375°F. Place the bread cubes on a baking sheet and drizzle with 1 tablespoon of Entimio olive oil. Toss to coat evenly. Bake in the oven for 10-15 minutes or until the bread is golden and crisp. Remove from the oven and let it cool. 
Step 2: Combine the tomatoes, cucumber, red onion, olives, basil, and parsley in a large bowl. Toss gently to mix the ingredients.
Step 3: Whisk together the remaining 2 tablespoons of Entimio olive oil, Entimio DOP balsamic vinegar, minced garlic, salt, and black pepper in a small bowl. Pour the dressing over the vegetable mixture and toss well to coat.
Step 4: Add the toasted bread cubes to the bowl and toss again. Allow the salad to sit for 15-20 minutes before serving to allow the flavors to meld together and the bread to soak up some of the dressing.
Step 5: Serve the Panzanella salad at room temperature. You can garnish with additional basil or parsley leaves if desired.
Enjoy your refreshing and delicious Panzanella salad!
Shop Entimio Ardente or Entimio Intenso and Entimio Affinato.