Pappa al Pomodoro (Traditional Tuscan Tomato Soup)
Posted on December 19, 2021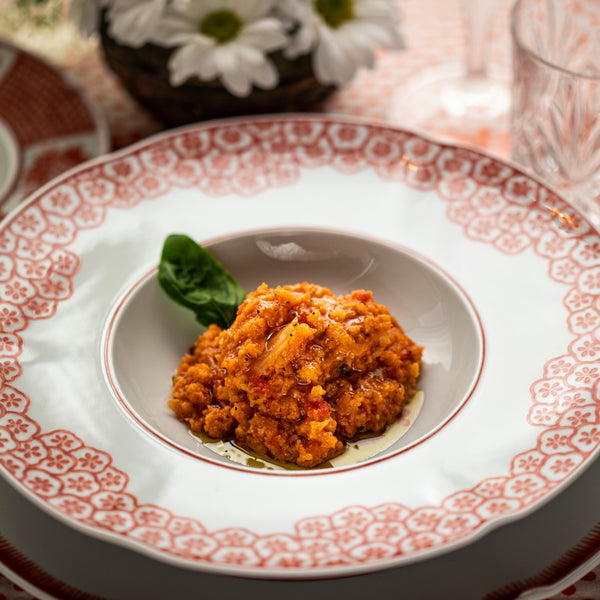 Pappa al Pomodoro (Traditional Tuscan Tomato Soup)
Makes 4 servings | 30 minutes
Pappa al Pomodoro is the hallmark of traditional Tuscan home cooking. Few quality ingredients and simple preparation make it a perfect dish to try for the holidays with your family. The recipe is incredibly "solid," and you can make adjustments (or mistakes), and it will still work out well most times! :-)

As with all simple preparations, you will need the best quality ingredients, as there is no complexity to hide mediocrity. So, you will need an excellent extra virgin olive oil, and we suggest Entimio Distinto as the perfect pairing. And your favorite Entimio extra virgin olive oil will work magic too!

Variations - Just garlic or a mixture of finely minced vegetables such as carrot, celery, and onion; water or vegetable stock; or keep experimenting around!
Ingredients
- 800g peeled canned tomatoes, crushed
- 2 cloves of garlic
- Dried chili pepper to taste
- Entimio Distinto extra virgin olive oil
- 4 thick slices of stale Italian-style bread
- 1 cup of hot water
- 20 basil leaves
- Salt to taste
Instructions
Step 1 - Soak the bread in cold water for about 10 minutes.
Step 2 - Cover the bottom of a pot with Entimio extra virgin olive oil. Add the garlic and dried chili pepper to taste; then, add the crushed, peeled tomatoes and cook on low heat until the tomatoes begin to soften come apart.
Step 3 - Squeeze the bread between your hands to remove all the excess water and crumble it into the tomato sauce; add a cup of hot water.
Step 4 - Season with salt and cook over a low flame for about 10 minutes, stirring vigorously from time to time.
Step 5 - Turn off the heat, add the basil leaves, and pour more Entimio extra virgin olive oil.
Step 6 - Set aside for at least an hour to let the flavors mix, then serve warm or at room temperature.
Shop Entimio Distinto 250ml (8.5 fl oz) and 500ml (16.9 fl oz) formats.