PARMESAN-FETA WHITE PIZZA RECIPE
Posted on October 11, 2018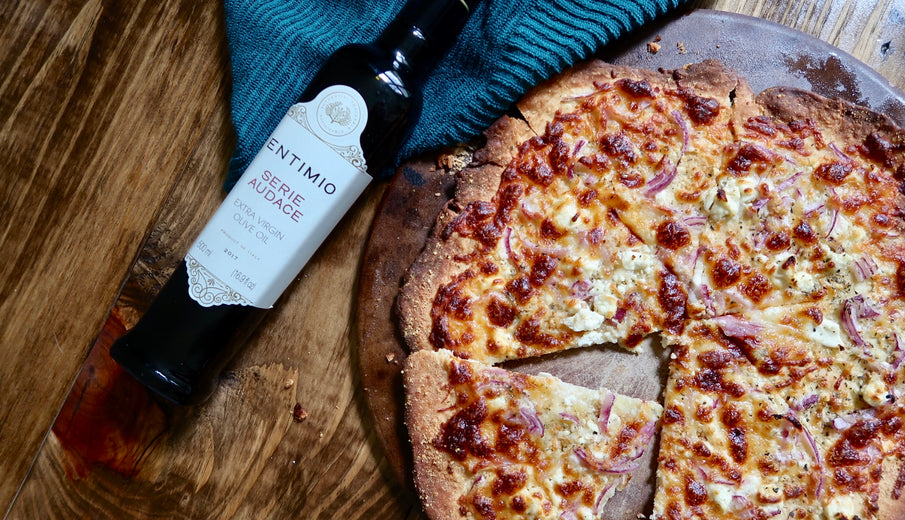 I am Italian, and I love "traditional pizza." However, I also fancy this pizza recipe with Entimio Serie Audace extra virgin olive oil from Megan Meisner. It is relatively simple, very healthy, and it makes up in flavor what lacks in traditional ingredients. The result is truly yummy!
Quite often, we're hesitant to use the "good" olive oil on something like pizza. Why waste it, right? While it is true that the fruitiness of olive oil may be lost if cooked, studies confirm that high-quality olive oil preserves (and even enhances!) the flavor of your food, while transferring and preserving the antioxidants.
By using high-quality olive oil with a high smoke point, you also protect the food from natural oxidation when exposed to heat. The result? A lighter, healthier and more easily digested meal that complements the real flavor of your food.
Ingredients
1 package of pizza crust mix
2 T. Entimio Serie Audace Olive Oil
1/3 cup Entimio Serie Audace Olive Oil
4 T. Parmesan cheese
4 T. Feta cheese
2 t. oregano
2 t. basil
1/2 small red onion, thinly sliced
2 T. fresh garlic
1 1/2 cups Mozzarella cheese
Instructions
Preheat oven to 475 degrees. I like to prepare the dough in advance so it has some time to rise. Follow the instructions on the package, roll into a ball and coat with approximately 1 T. of Enimio olive oil. Place in a bowl and cover with a towel for at least one hour.
Roll the crust out on a baking sheet or pizza stone that's dusted in flour. In a small bowl, 1/3 c. Entimio olive oil with the Parmesan cheese. Using a brush, combine the ingredients and brush a layer over the entire pizza. Top with Feta, oregano, basil, garlic, onion, and cheese. Bake for approximately 12-15 minutes. Remove from the oven, drizzle some raw Entimio olive oil on top, and enjoy!
Please find here the original post from Megan Meisner, from which I borrowed this recipe. Thank you, Megan!