Peach Mascarpone Salad
Posted on July 29, 2021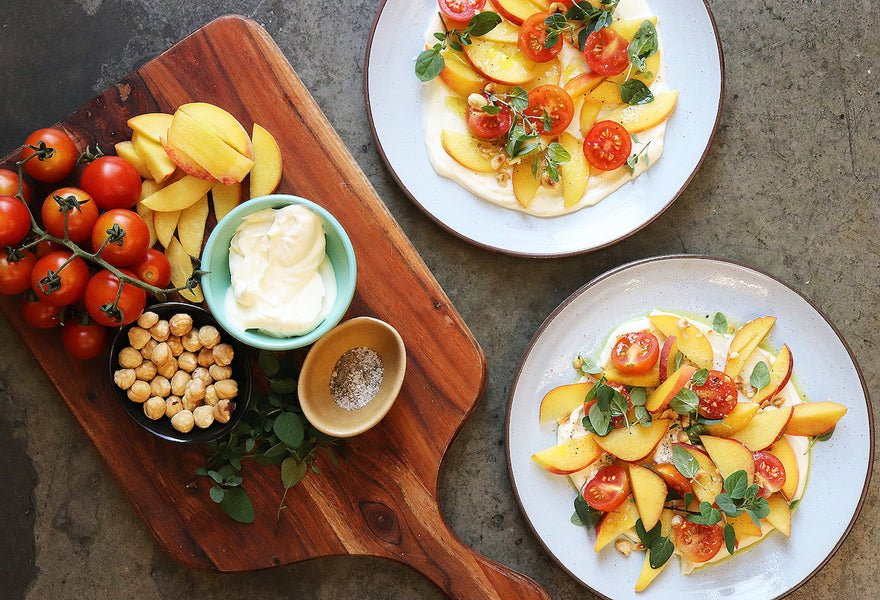 Peach Mascarpone Salad Recipe
Makes 1 serving | 10 minutes 
Savor what's in season!
This simple salad could be your ticket to indulgence. We put ours together using seasonal vegetables and fruits, followed by a generous drizzle of Entimio Italiano EVOO. You'll discover that this delicate olive oil is our most versatile, as it pairs well with most dishes — the finishing touch to any preparation, from refreshing salads to warm savory plates. And Entimio Italiano is also great for any cooking application, thanks to its elevated smoke point > 450F. 

Ingredients
- 4 large cherry tomatoes
- 1 large ripe peach
- 1 tablespoon hazelnuts
- 1/2 teaspoon salt
- 1/2 teaspoon pepper
- 1 tablespoon Entimio olive oil
- 1 tablespoon mascarpone
- Garnish: lemon balm, mint, or mixed herbs
Instructions
Slice the cherry tomatoes into four pieces and cut the peach into thin slices. Next, chop the hazelnuts into a crumble.

Begin assembly by spreading the mascarpone onto the plate and placing the tomato and peach on top. Then, sprinkle hazelnuts, salt, pepper, and the garnish of your choice. Finish with Entimio Italiano organic extra virgin olive oil.
Shop Entimio Italiano Organic EVOO 500ml (16.9 fl oz).