Roasted Squash Recipe
Posted on July 13, 2021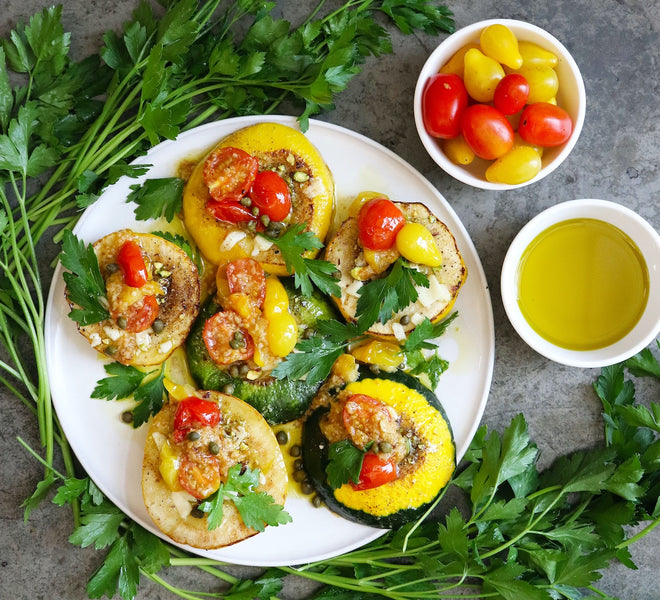 Roasted Squash Recipe
Makes 4 servings | 35 minutes 
You've had it before, but not like this! This roasted squash recipe will show you how our Entimio Vivace organic extra virgin olive oil can help you elevate the ingredients you've had many times before. Using Entimio Vivace, you will incorporate fresh notes of chicory and green almond to balance the spices. Bring indulgent aromas into your home with award-winning Entimio Vivace olive oil. Why not deliciously get your daily antioxidant intake!?
Ingredients
- 3 medium-sized patty-pan squash or long zucchini
- 1 1/2 teaspoons salt
- 1 teaspoon black pepper
- 2 tablespoons olive oil
- 1/2 cup sliced or grated Pecorino Romano (optional)
- 3 tablespoons Entimio Vivace EVOO
- 2 teaspoons minced garlic
- 1/2 cup minced white or yellow onions
- 1 cup cherry or teardrop tomatoes, cut in half
- 1 teaspoon salt
- 2 tablespoons capers
- Few sprigs of parsley leaves 
Instructions
Cut the squash in half horizontally. Marinate all pieces in salt, black pepper, and olive oil.
Heat a sauté pan and cook the squash on each side for at least 3 to 4 minutes or until golden brown. Put the sliced or grated Pecorino cheese on top to allow it to soften.
In a small frying pan, heat the olive oil and cook the garlic and onions for 5 to 8 minutes or until the onions are translucent. Add the cherry tomatoes and cook for 2 to 3 minutes. The tomatoes need to soften, not disintegrate.
Turn the heat off and stir in the capers, and when ready to serve, drizzle a little more olive oil. Garnish with parsley leaves and serve.
Shop Entimio Vivace EVOO in 250ml (8.5 fl oz) and 500ml (16.9 fl oz) formats.