Rosemary Scallops
Posted on January 05, 2022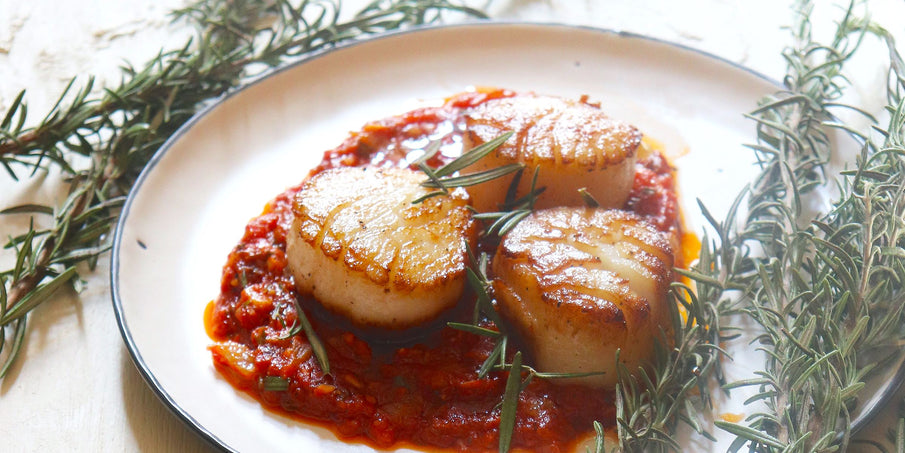 Rosemary Scallops
Makes 2-3 Servings | 25 min + Marination Time
One of the best ways to preserve the freshness of the seafood is to marinate it in olive oil. The olive oil creates a barrier against oxygenation, adds a peppery edge of tremendous flavor to seafood such as sweet scallops. The sweet herbaceous flavor of rosemary brings this dish together. Add heavy cream or coconut milk to make it saucier. Enjoy it with rice or boiled pasta.
Ingredients
- 8 large scallops
- 1 tsp salt
- 1 tsp black pepper
- 4 tbsp Entimio olive oil
- 1 cup minced red onions
- 4 garlic cloves, sliced
- 2 cups cherry tomatoes, cut in half
- 1 tbsp chopped rosemary plus more for garnish
Instructions
Step 1 - Marinate the scallops with 1/2 teaspoon salt, black pepper, and two tbsp of olive oil. Set aside for a couple of hours or refrigerate for up to 48 hours.
Step 2 - In a wide bottom saucepan sauté the red onions in two tbsp of olive oil on high heat till the onions sweat.
Step 3 - Then add the garlic cloves, tomatoes, and rosemary. Lower the heat, cover, and let it simmer for another 8-10 minutes on low heat.
Step 4 - Then add the marinated scallops. Sear on both sides.
Step 5 - Cook the scallops for 2-3 minutes. Turn the heat off, sprinkle with more rosemary and olive oil and serve.
Shop Entimio Vivace 250ml (8.5 fl oz) and 500ml (16.9 fl oz) formats.