Shrimp Pasta with Chilis
Posted on August 03, 2021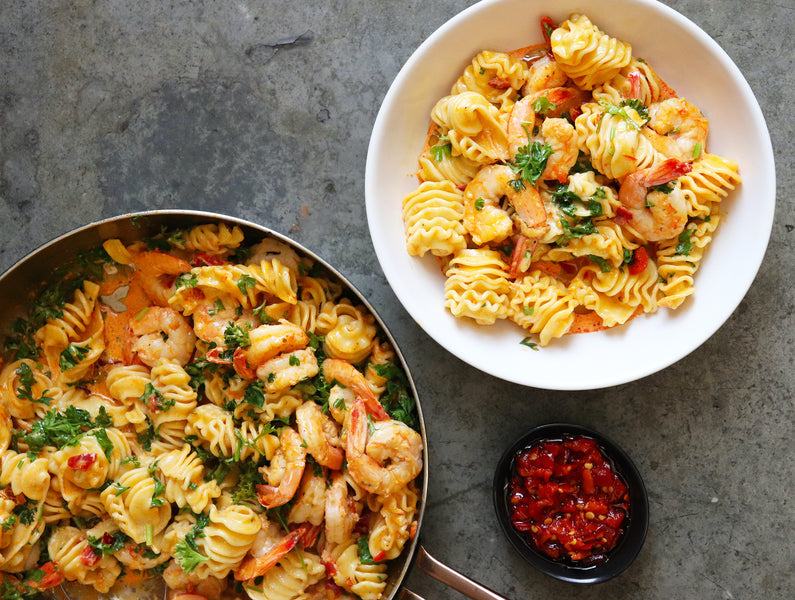 Shrimp Pasta with Chilis
Makes 4 serving | 30 minutes 
Add a delectable touch to your dinner recipe! 😋 👩‍🍳  We used Entimio Vivace to infuse the flavors tossed into the shrimp pasta, featuring chilis and garlic. Season to your tasting and drizzle over a world-class olive oil for a glowing finish. You know quality, so be sure to bring it into your kitchen! 

Ingredients
- 1 pound small (26-30 size) shrimp peeled and deveined with tails on
- 1 pound fusilli pasta
- 4 tablespoons Entimio Vivace organic olive oil, plus more for drizzling
- 1 tablespoon minced garlic
- 2 cups heavy cream
- 2 tablespoons roughly chopped red chilis
- 1 1/2 teaspoons salt
- Garnish: chopped herbs like parsley or oregano
Instructions
Cook the pasta in 4 cups of salted boiling water until done. Drain.
In a stockpot, heat the olive oil and sauté garlic for a few seconds or just until it turns white.
Add the red chilis, cream, and salt almost immediately. Bring to a boil and simmer for just a couple of minutes.
Add the shrimp and cook for 2 to 3 minutes, then add the cooked pasta, cover the stockpot, turn the heat off and let the pasta rest for 10 to 15 minutes.
Garnish with herbs, drizzle with olive oil and serve.
Shop Entimio Vivace Organic EVOO 250 (8.5 fl oz) and 500ml (16.9 fl oz).